Above: Hanging out with youth in Travertine Falls, lower Grand Canyon
I'm thankful for the time that I've had in July and August to rest and rejuvenate and engage in a huge passion of mine for the outdoors. I spent time in Arizona with family and working as a riverguide with Grand Canyon Youth.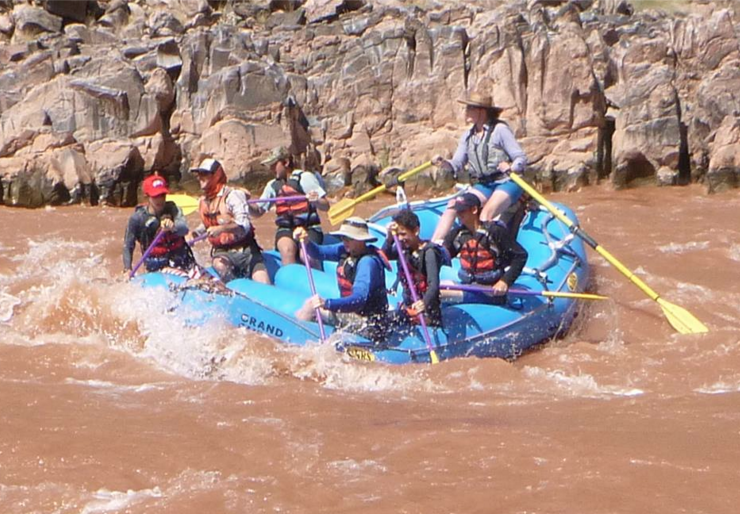 It's been an adventurous summer – and indeed for each of us living every day with Jesus is truly an adventure.
In his book "Love Does," Bob Goff says "Every day God invites us on the same kind of adventure. It's not a trap where He sends us a rigid itinerary, He simply invites us. God asks what it is He's made us to love, what it is that captures our attention, what feeds that deep indescribable need of our souls to experience the richness of the world He made. And then, leaning over us, He whispers, "Let's go do that together."
Similarly, through prayer and reflection, this summer I felt God asking me a question, "Kelly, what do you want?"
While there are many things in life that I want, at the deepest part of my soul, I always come back to one answer: I want to see the Church be the fully united, reconciled bride of Christ.
As God's people, we are to be a sign of God's kingdom which has come. Through Christ, God came to reconcile us with Himself, and as bearers of this message, we are the physical body of Christ here on earth.
Today's world can be characterized by hatred and division, but the Church, like no other institution, can embody the reality of a dynamic reconciling love.
So, what do I want? Simply that all people who call on Jesus as the Lord and Savior would be one.
That is my greatest passion and my heartbeat. Despite trials and hardship, I can't get away from it. It's what drives me during the day, and it's what keeps me up at night. Thus, I'm beginning to see that my life is a prayer with Jesus, yearning that we would be one, so that the world will more fully recognize Him as the Son of God (John 17:23).
There are small signs of this kingdom coming here in Boston. There was an article this month about UniteBoston posted on the Paulist Fathers "Koinonia" newsletter, which is super cool!
Also this month, there was an article about Boston from a nationally recognized ministry stating that "Many of Boston's denominational and church leaders are passionate about unity and are sharing life and discipleship across Orthodox, Pentecostal, Catholic and Evangelical congregations. In fact, many churches blend the best from various church traditions. This is a trend that is taking traction in other cities, and Boston will surely provide fascinating models for unity."
UniteBoston is just a small part of the unity that God is bringing forth here in Boston – and we're so grateful to have you be a part of things!  The best is yet to come ~